It's easy to assume that as long as a scale offers the capacity and readability to suit your needs, that's all you need. But what if you're using your scale to calculate a price based on an item's weight? That means you'll need a trade-approved scale. 
What is a Trade-Approved Scale?
A trade-approved scale – which can also be referred to as approved scales, legal-for-trade scales, price computing scales or even simply as stamped – is required by law whenever pricing is set by weight, whether in a retail setting like a grocery store or farmers market, or in an agricultural setting where harvested crops are being sold by the grower. 
The use of a trade-approved scale protects both the buyer and the seller by ensuring that each party receives the correct amount of goods or the agreed upon price for those goods. 
They typically feature displays on the front and rear of the machine (some include a display on a pillar for easier viewing), allowing both the operator and the customer to see the weight, price per unit and total price. Another common feature is PLU (Product Look Up) memories, allowing the operator to quickly recall prices-per-unit for preprogrammed items.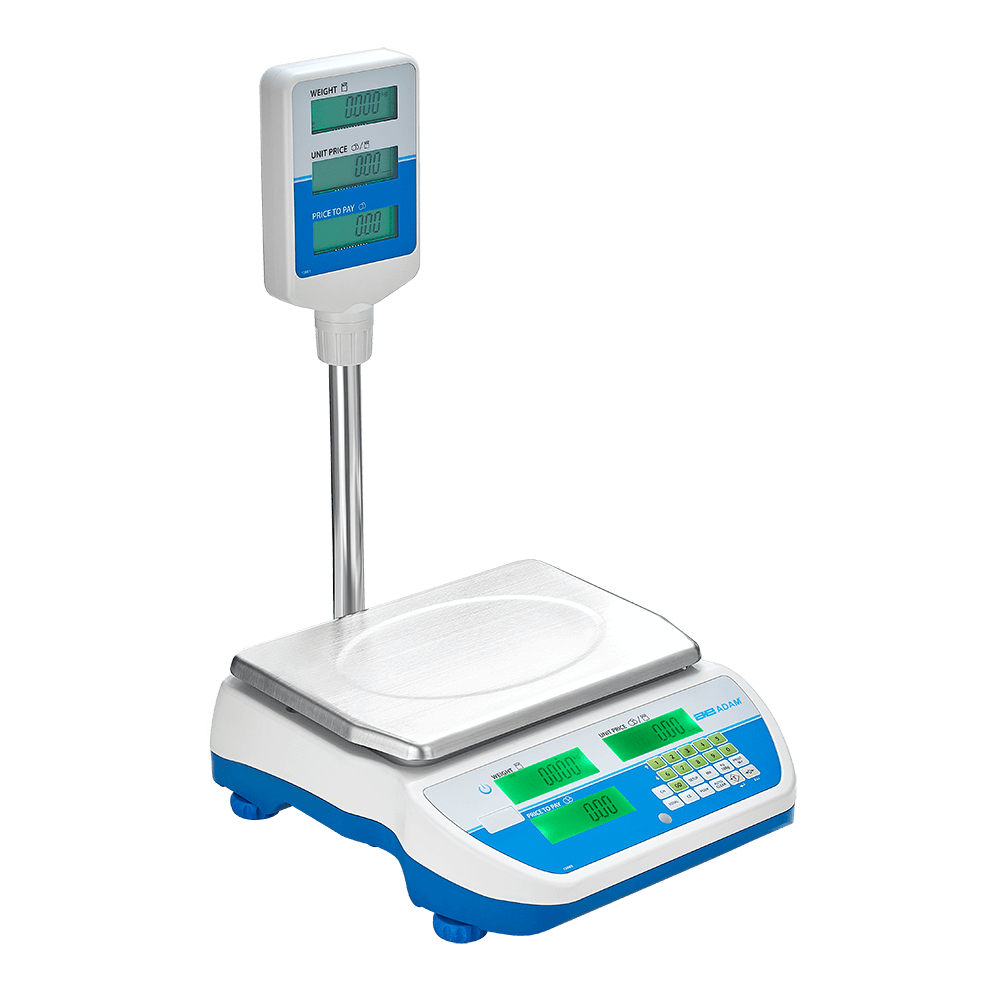 What Types of Goods Do I Need a Trade-Approved Scale For?
Trade-approved scales are used to weigh an extensive variety of products, including food, drinks (including alcohol), produce, meat and seafood, liquid fuels and bottled or packaged goods that specify weight, livestock feed, precious metals and stones, and landscaping material.  
They can also be used in the pharmaceuticals industry, when medication or chemical compounds are sold by weight. 
This list is not meant to be exhaustive, but to illustrate some of the types of products that are often sold by weight. 
What are the Different Types of Approvals?
The organization overseeing trade approvals depends on the country, so be sure when purchasing a retail scale that the approval is recognized in the locale where you'll be using the scale. 
Examples include the National Type Evaluation Program (NTEP) in the U.S., Measurement Canada in Canada, European Conformity (CE) in parts of Europe, the Organisation International de Métrologie Légale (OIML) in parts of Europe and Latin America, the National Measurement Institute (NMI) in Australia and the National Regulator for Compulsory Specifications (NRCS) in South Africa. 
For more information on the various trade approvals, check out the Metrology Approvals section on our Regulations & Compliance page or our blog, A Quick Guide to Trade Approved Scales and Balances.  

Where Would I Use a Trade-Approved Scale?
As we've discussed, trade-approved scales have a place wherever money is being exchanged for goods based on weight. This would include retail locations (including supermarkets, delis, frozen yogurt shops and jewelry stores) and commercial use (such as food packaging facilities and farms). 
Retail use
Setting prices by weight is obviously the primary function of an approved scale when it comes to retail use. 
Swift price computing retail scales – the newest retail scale in Adam's product mix – offers dual capacities ranging from 3lb./6ls. to 30lb./60lb. and readabilities from 0.001lb/0.002lb to 0.005lb/0.01lb. With more than 160 PLUs, Swift allows users to recall pricing at the touch of a button.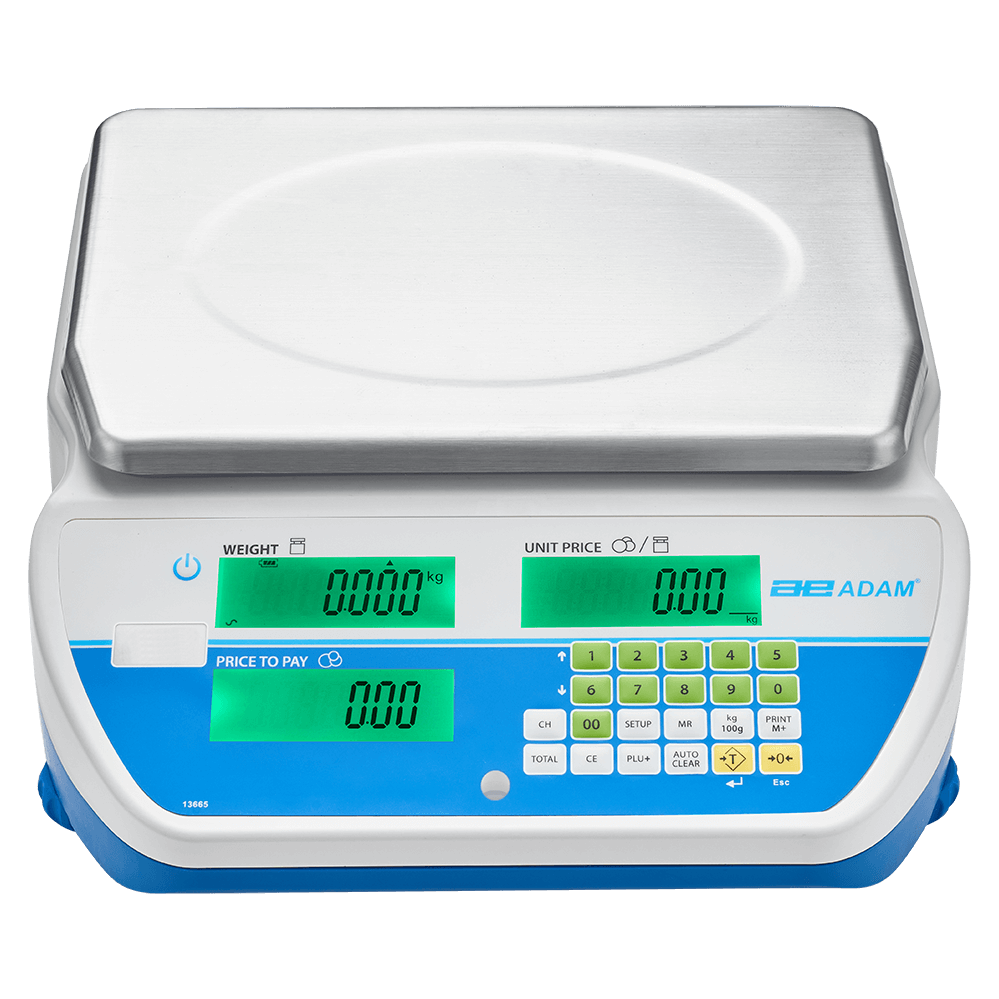 Topup Truck, a mobile zero waste shop in London, employs a Swift to measure out refills of 150 household essentials to reduce the use of disposable plastic containers. 
In the U.S., Adam also offers the IP66-rated WBZ washdown retail scale (which features durable stainless steel housing and a waterproof housing, making it ideal for processing, preparing and packaging food) and the Raven price computing retail scale (with 40 PLU memories for fast product recall). 
Commercial use
For commercial use, approved scales can still be used for setting pricing by weight, such as checkweighing goods in a factory before they're packaged to ensure each box or bag contains the correct weight of goods. 
Approved checkweighing scales and indicators – including the approved Cruiser CKT M bench checkweighing scale, the approved Gladiator range of washdown scales, the approved AE 403 M indicator, the GBK M bench scale, the GFK M floor scale and certain models of the PT platform with the GKaM indicator – can help businesses save money by reducing waste and overages. Perfect for repetitive weighing tasks, CKT M provides a color-changing backlit display to indicate if the sample is under, over or within the preset limit. 
Many checkweighing scales (including those mentioned above) provide a color-changing backlit display to indicate if the sample is under, over or within the preset limit. 
In industrial facilities – particularly in food production – checkweighing is done under conditions that can get messy. Approved washdown scales and indicators like the IP68-rated Gladiator and AE 403 are easy to clean and perfect for wet or dusty environments. 
For more information about approved scales and the retail industry, check out our Retail Industry page. Need help finding the right trade-approved scale for your business? Consult with our staff of trained professionals by clicking here.