It's official! As of the 1st of January, 2023, we've upgraded our warranties on all new purchases of nearly all our scales and balances to as many as five years. We're proud to prove to you the trust that we have in the quality and durability of our products. We know that once you've got your hands on one of our scales or balances, you'll have the same confidence that we do. Let's go into more detail.
Which Products Have Upgraded Warranties?
Many of our products have more than doubled their original warranties, which means that in many cases our customers get "double the peace of mind," says CEO Richard Storey.
The chart below lays out the new Adam manufacturer's warranties. Adam Equipment offers up to three more years of warranty protection than previously, covering our scales against manufacturing defects.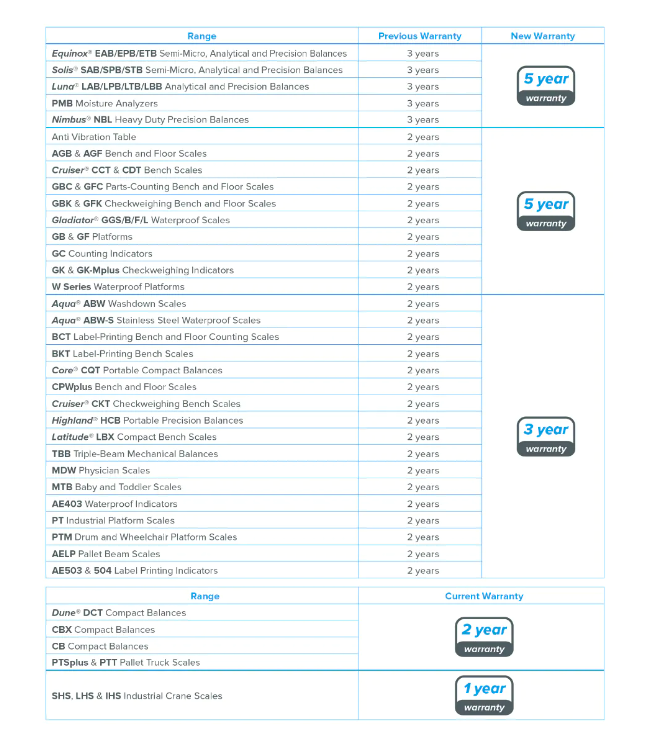 How Are You Eligible for the New Warranties?
Eligibility for our new, longer warranty periods is easy – all you need to do as a buyer is register your product on our website upon purchase. Then, you'll be able to work without worry, knowing that we're here for you through thick and thin. In the unlikely event that you have a problem or issue with parts or workmanship, you would be able to contact your local Adam office, or the authorized reseller whom you bought the product from by telephone or email to begin the claim process.
Why Are We So Confident?
Our company puts great effort into making our products more than ever before. We are always looking at ways to evolve and improve our scales and balances to be more robust, more accurate and more reliable. Our hard work has not gone unnoticed. Here are a few reasons why we're so confident, from the keyboards of our very own customers:
John S. employs a LBX-6 Compact Bench Scale, the warranties of which have increased to three years for new buyers. Strika reports that Adam balances are "very reliable, well made by a company that understands scales and balances and can support you after the sale if necessary."
-- Carl S. of SIMPLYS boasts that his Luna LBB 8001e - with a new warranty of five years - is "spot on every time."
-- Brijesh S. of Premier Candle Corp. states that his weighing scale features "sturdy housing for long-lasting use" and is "easy to calibrate."
-- Elena P. of GDC, Inc. owns a Nimbus NBL 120001E – also with a new warranty of five years – which is "reliable, even in a production environment" and is "accurate when verified with certified weights," even after nine months, no adjustments necessary.
-- Self-employed Alan P., owner of a Nimbus NBL 124e, describes our technical support as "excellent."
-- Ceri W. of Wallcolmonoy Ltd utilises a BKT 32 – with an increased warranty of 3 years – and states that Adam's "Cost/value for money is second to none."
There you have it. We have confidence in our products because our customers give us the cause to be confident. Put your trust in our products and we won't let you down.
Do you have more questions? Check out our warranty page or contact us for help!